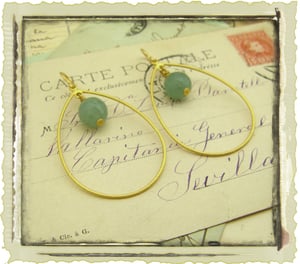 €

32.00
Elegantes y delicados pendientes en tono dorado mate con aro en forma de lágrima y gancho francés. Cada aro está adornado con una una piedra semipreciosa redonda de color verde claro colgando en el centro (Amazonita).
El aro de estos pendientes mide aproximadamente 5,2 cm (2,05 ") x 3,2 cm (1,26") y la medida total de los pendientes incluyendo los ganchos es 6.35 cm (2.50 "). Piedra Amazonita de 1 cm (0,39").
.............................................
Elegant and delicate matte gold plating teardrop hoop earrings with French ear wires. Each hoop is adorned with a green round Amazonite stone hanging in the center.
The hoop is 5.2 cm (2.05") x 3.2 cm (1.26") and the total length of the earring is 6.35 cm (2.50 ").
Amazonite Stone: 1 cm (0,39") in diameter.